RELEASE UPDATE • JANUARY 1, 2022
Seventh Media released ATOMIX, a unique 360 headless commerce framework.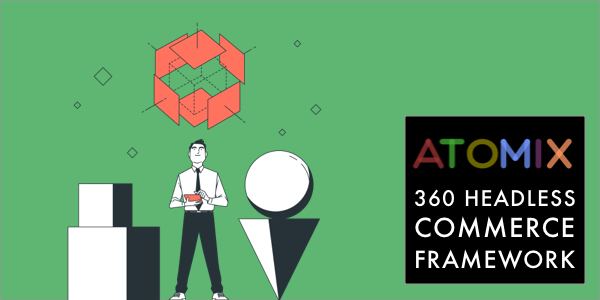 We are thrilled to announce the release of our much-awaited 360 headless commerce framework, dubbed ATOMIX. It has been a long journey to get here, but we are confident that ATOMIX will benefit the digital needs of our partners in ways they have not thought possible before.
TL;DR:
ATOMIX provides a bootstrap for the rapid and efficient development of high-performing web (commerce) apps.
Connect your new web app to any backend management system such as headless content systems and marketing suites.
You can enable your users to install your web app on their mobile and desktop devices with offline support, push notifications, and more.
Includes ready-to-go extension modules for common features such as blogs, user profiles, and checkouts.
Includes built-in data layer for consistent and efficient personalization, tracking, and insights.
Includes multi-tenant and multi-language support.
Includes build-in dark-mode and accessibility features(no-more third-party plugins!).
Built for performance in every way: w3c, SEO, cashing, schema, open-graph, UX/UI.
Web-apps are the future. Build your bespoke web-app experience and engage your customers today.
ATOMIX is a bootstrap framework for headless PWA's. Much like what Twitter's bootstrap did for web UI development, ATOMIX delivers a ready-to-go foundation for the rapid development of headless PWA's that include all the best practices and common features for you to extend on. This allows your team to skip the foundational work, and start directly with what makes your web-experience unique. This results in faster go-to-market times, better cost-management, and a better end-product.
The framework incorporates all web standards and best practices to provide fast loading times, smart cashing, great user experiences, and stellar SEO performance.
ATOMIX is modular by nature, allowing for ready-to-go extensions, modifications, and platform updates when we release new versions of ATOMIX. No matter if you are developing a regular website, blog, or webshop, ATOMIX has you covered.
The headless nature is another big benefit of ATOMIX. ATOMIX is completely agnostic from any backend solution, allowing you to connect it to the preferred content management system and marketing tools of your choice. While we do have some vendors we advocate, in theory, you can manage your content with any system, and integrate your web app with any data source as long as they provide a GraphQL API.
What problem does ATOMIX solve?
The web is becoming increasingly complex and demanding. As an organization, you need to target more devices and channels than ever. Assistive technologies such as accessibility features and dark mode are no longer a " nice to have", and most organizations maintain the sizeable ecosystem of backend systems and third-party apps to keep it all running.
Many of our partners outgrow what regular CMS systems can deliver for their customers and look toward custom solutions. On the other side, most companies are not equipped to handle full-sized development teams to deliver bespoke solutions.
ATOMIX solves this problem by delivering a battle-tested foundation that allows you to create high-performance bespoke experiences in less time and with less effort.
As common features such as cookie consent, accessibility support, and dark-mode have been baked in, you will be no longer reliant on third-party services which bear extra development time and costs.
AOMIX has no pre-defined use-case or structures, allowing you to create any experience you require. From a unique blog to a complex e-commerce experience or a blend of both, ATOMIX allows for full flexibility.
What makes ATOMIX stand out from other solutions?
In our industry, we have seen many companies, big and small, invest fast amounts of time and money to create custom web solutions from scratch. Sometimes this works out well but it requires a great amount of time, investment, and competencies within your organization. Service providers often add fuel to the fire by over-selling solutions that do not fully support your long-term goals. Naturally, this will only become clear at a later stage when you already started the project and made the investments.
ATOMIX is the first open framework that delivers you a solid foundation for high-performing bespoke web apps, so your team does not have to worry about the fundamental details but can focus on developing impactful experiences for your audience. Our framework is regularly updated to support the latest technologies and features, keeping your platform relevant while your team can focus on what matters most to the business. If you require custom development or support our agency is happy to assist.
What you can expect
ATOMIX can be used as a foundation for your development teams, or you can rely on Seventh Media for a full-service deployment of the framework, custom designs, integration with your preferred platforms, and onboarding for your teams. Seventh Media is a leading digital agency in the Netherlands and the main developer of ATOMIX. Please note that ATOMIX is currently in closed beta and is not yet available to the public.
Learn more
Is your organization looking to deliver a next-generation web platform? We are happy to arrange a call.
Contact